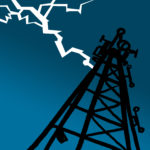 Jerod Brennan always goes dark.
I've mentioned this before, but when we were first conceiving this show, for some reason we kept coming back to threats to children. "Godmother" was my riff on this theme, and Greatest Show is Jerod's. He, uh, managed to go a little darker than me.
Greatest Show (Left) on Earth started out as a 5-page short film script that Jerod wrote a few years ago. I didn't do much to adapt it – mostly I converted the stage directions to first-person narration or dialogue.
For example, here's how the Crooked Man's intro is described in the original script:
EXT. CIRCUS TENT – NIGHT

The Crooked Man BARKS at the crowd, drawing them toward the tent. He collects items from them as admission: a can of food, a book of matches, a winter coat.
I converted that to the spiel that Max delivers as we enter the tent for the final performance.
I'd like to give a special shout-out to Dan Kiely for striking the right world-weary note for Harry's narration. He really sounds like a guy who "escaped the end of the world."
Cast & Crew
Harry Weisz: Dan Kiely
Clem: Tiffany Kiely
The Crooked Man: Max Groah
Young Nathan: Tony Goins
Written by: Jerod Brennan
Adapted and Produced by: Tony Goins
Recordamatography: Micah Jenkins
Bong of the Living Dead
So I mentioned that Dan Kiely, Tiffany Kiely and Max Groah are part of a local film group called Backward Slate Productions, and that they have a movie called "Bong of the Living Dead," and that film is available on DVD, Blu-Ray and glorious VHS. Friends, I'm here to tell you that's all true.
It played a crap-ton of festivals last year, and it is indeed available in all of those formats.
Bong of the Living Dead at Scream Team Releasing
SFX Corner
A lot of the heavy lifting in this show is done by Kevin MacLeod's "Waltz of the Carnies," which is gratefully acknowledged here. I don't know anything about Kevin, and if there's dirt on him, don't tell me, because he's aces in my book.
Kevin MacLeod's "Waltz of the Carnies"
I also used the following from Freesound.org:
And a number from ZapSplat:
The trickiest foley in this piece was the scene with Harry and Clem. The script called for light wind and a Geiger counter. How do you depict a light wind? Over audio, any wind at all sounds like a hurricane. I opted to put in wind chimes. I guess Harry is a wind chime guy.
Some of the foley was performed live by me: The handcuffs at the beginning are a pair of slip-nose pliers, and the ticking at the end was a fingernail clipper. I'm snapping the lever backwards in time to the action.